A Land Remembered
by
Patrick D. Smith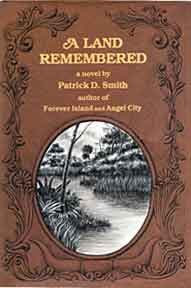 I have read a lot of books, and I have read several books set in Florida. But I have never read a book that caused me to mourn for the land as much as this one.
As a native Floridian, I have always felt keenly when the wild places around me were disturbed. I can remember watching a cypress swamp become a high school and a live oak wood turn into a drainage pond. Both times I was sad for the loss of what once was. I remember thinking that so few would remember.
The plot line of this book tells the story of a family of "crackers" who carved out their life in the wilds of Florida, selling cows, raising oranges, and eventually farming. However, the book itself is about much more than that. The author, Patrick D. Smith, manages to describe in fantastic detail what my home state, what Florida, was probably like.
He begins at the end of the American Civil War and tracks the changes that weather, railroads, and greed bring. With his descriptions I pictured the vastness of it all - how immense the state must have felt as they drove cattle for days and days across seemingly endless fields, forests, and swamps and what an amazing multitude of wildlife must have existed. He weaves into the story the damage of progress and time in a manner which becomes as important to the story as the characters themselves. The heart of this story is about how human decisions can change or save those things around them, and at its core is the value of love, family, and memories.
If I have ever loved the land here, I love it more now, having read this book. Though the lives of the characters and the ending of the book turn tremendously sad, if you are interested in Florida's history at all, then I highly recommend it for reading.
-------------------------------
Suzanne
Suzanne Williams Photography
Florida, USA
Suzanne Williams is a native Floridian, wife, and mother, with a penchant for spelling anything, who happens to love photography.